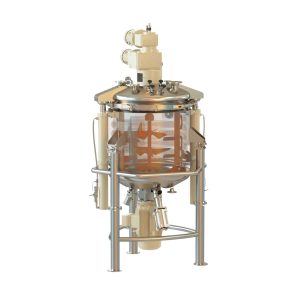 BACHMIX COMPACT
Industrial vacuum mixer and reactor for liquids and semi-solids
CAPACITIES: from 150L up to 10.000L.
STANDARD AND RECIRCULATION VERSIONS
LIFTABLE OR FIXED LID VERSIONS (Bachmix Fixed)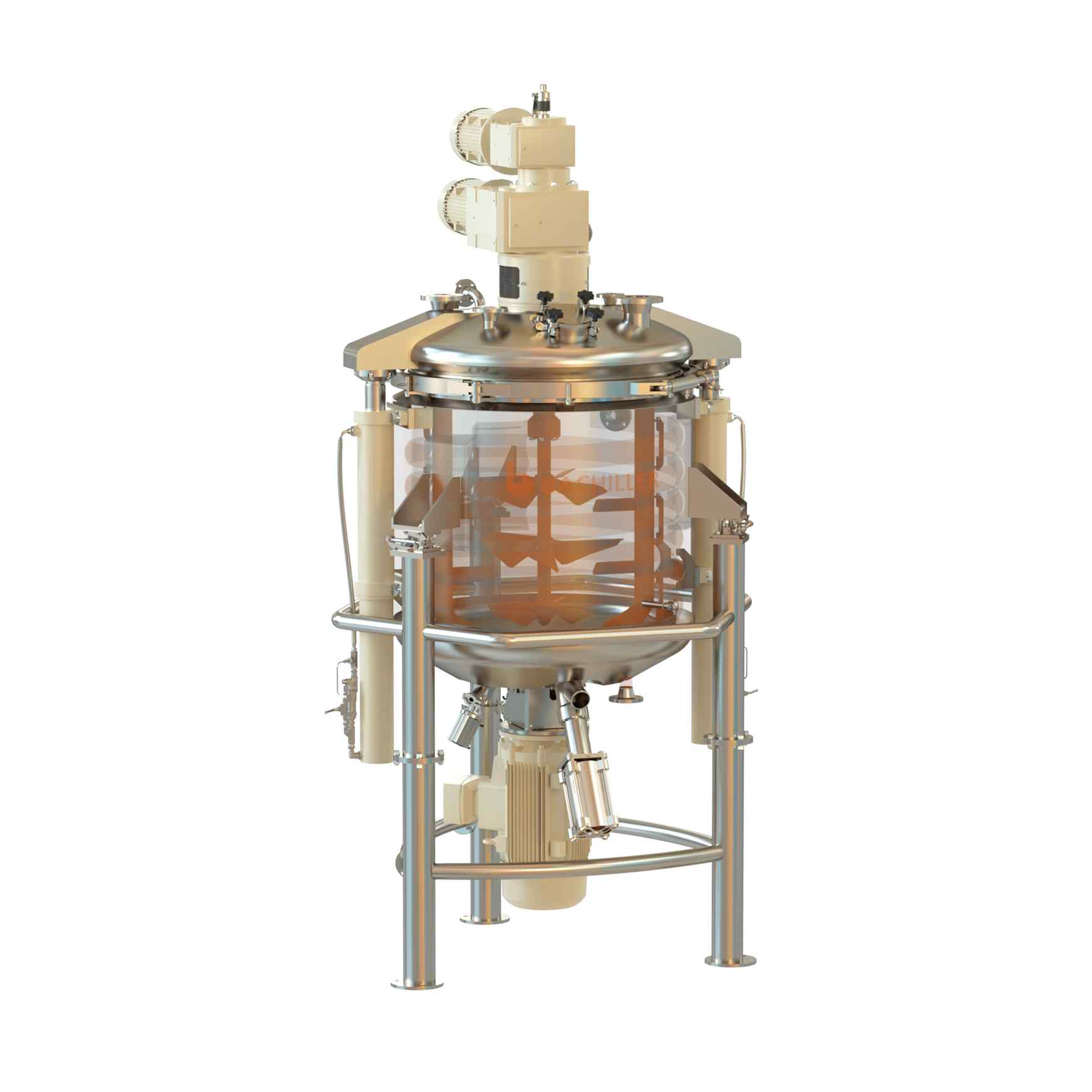 BACHMIX COMPACT
Industrial vacuum mixer and reactor for liquids and semi-solids
CAPACITIES: from 150L up to 10.000L.
STANDARD AND RECIRCULATION VERSIONS
LIFTABLE OR FIXED LID VERSIONS (Bachmix Fixed)
The Bachmix Compact, industrial vacuum mixer and reactor for liquids and semi-solids, allows a wide range of operations such as homogenisations and emulsions, vacuum and pressure, washing and sterilisation, which represent a technological advance in the manufacture of cosmetics and pharmaceutical products, but also for food and beverage processes as well as for those for fine chemistry.
The Bachmix Compact liquid vacuum mixer controls all process parameters, such as stirring speeds, temperature and pressure. The slow anchor stirrer combined with the rotor-stator emulsifier enables the carrying out of emulsions which are extremely fine and stable in processes with products that have a high viscosity and complex rheology.
Full equipped unit "Plug and go".

Operation under pressure avoiding final de-aeration of the product.

Lifting lid with automatic SUPERCLAMP closing system.

Coaxial mixing tools independently controlled.

High shear Rotor Stator agitator..

integrated inlet of solids and liquids.

Perfect traceability of the fabrication parameters.
Capacities from 150 up to 10.000 liters.

Useful working volume variable from 20 % up to 100 % of its capacity.

Atmospheric operating pressure – Optionally up to 3 bar(g).

Operation temperature up to 200º C.

Design according to ASME VIII div.1 – AD-2000 – EN-13445.

Sanitary design according to cGMP, validatable FDA.

Internally mirror polished Ra ≤ 0.6 µm (Grit 360).

Working vessel with heating/cooling jacket through an independent unit.

Thermal insulation with welded protection in stainless steel.

Coaxial mixing tools independently controlled:

Anchor with rotation in both directions.

Central Uniflux blade mixer with high axial flow rate.

Auxiliary equipment integrated  in the workbench:

Vacuum pump.

Heating/cooling unit.

PLC control system with color touch screen interface:

Different levels of supervision and automation available.

Continuous control of the fabrication process.

Perfect traceability of the fabrication parameters.

CE marking according to the Safety for Machinery Directive 2006/42/CE.
Validatable FDA version.

DQ, IQ, OQ protocols.

CIP/SIP systems, validatable by Riboflavin test.

Internally electro polished Ra ≤ 0.2 µm.

Version for ATEX zone.

Rotor Stator in recirculation.

Software for creating product recipes.
COSMETICS y PHARMACEUTICAL: After Sun, Antibiotics, API's, Bio cosmetics, Body milk, Coats, Colorants, Creams, Diet food, Dispersions, Emulsions, Essences and flavors, Food additives, Gels, Hair gels, Lip sticks, Masks, Pomades, Shaving, Silicone, Sun protection, Suppositories, Sweeteners, Syrups, Tooth pastes, Unguents.
CHEMICAL: Adhesives, Alkaline batteries, Colorants, Pigments, Polymers, Premix, Resins.
FOOD: Baby Food, Concentrates, Creams, Diet food, Gelatin, Ketchup, Marmalades, Mayonnaise, Sauces, Vitamin complements.
WANT TO KNOW MORE? WRITE TO US: