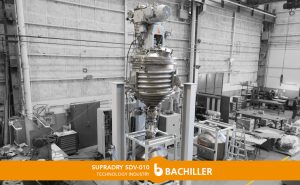 We have manufactured a Supradry SDV-010 of 1,000 liters in C-276 for a North American multinational in the technology sector.
The equipment consists of a vertical ribbon vacuum dryer with cartridge filter, power panel and touch panel control, a vacuum skid and a solvent recovery unit.
In this project, the client required a vacuum dryer to be able to reduce the humidity of its thermosensitive product from 0.1% to 0.01%.
To achieve an industrial process with reliable results, we previously simulated the client's process in its Test Center. Once the necessary adjustments were made and the expected results were obtained, the equipment was scaled with the appropriate technology to a desired standard industrial size.