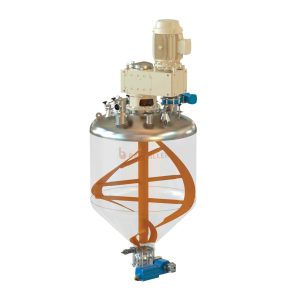 SUPRAMIX (MVC)
Industrial vertical ribbon mixer for solids and powders
SUPRAMIX (MVC)
Industrial vertical ribbon mixer for solids and powders
The Supramix vertical ribbon mixer for solids and powders by Bachiller, is especially suitable for the mixing and industrial homogenisation in short time of powdery products and those with similar particle sizes, respecting the morphology of the products and offering a complete discharge. It allows liquids to be added during the process.
The Supramix vertical ribbon blender consists of a vertical mixing spiral, rotating at a moderate speed to achieve an upward flow of perimeter product and a central downward flow.
Short mixing times, maximum 10 minutes.

Repetitive mixings processes, reproducible and easy to scale.

Mixer with low maintenance requirements.

Spiral mixer in cantilever execution, without any bottom support.

Complete discharge of the product.
Batch-wise operation.

Mixing capacity from 1:1.000.000 in only few minutes.

'CE' marking according to the Safety for Machinery Directive 2006/42/CE.
Internally mirror polished Ra ≤ 0.6 µm (Grit 360).

Externally polished in matte or mirror finish.

Liquid injection by spraying.

Heating/cooling  jacket.

Design under pressure and /or vacuum – refer to dryer and reactor.

Choppers for mixing intensification and lump breaking.

Lid with hydraulic opening.

Sanitary design according to cGMP, FDA validated.

ATEX executions on request.

ATEX execution for internal zone 20/0 officially stamped.

Solids loading and dosing systems.

Electronic weighting systems.

Formulation  installations.

Product packing systems.
FOOD: Additives, Flavors and aromas, Baby Food, Soluble drinks, Soluble coffee, Cocoa powder, Vitamin complements, Dextrin, Diet food, Sweeteners, Spices, Gelatin, Candies, Powders humectation, Milk powder, Improvers, Muesli, Food preparations, Bakery ingredients, Pastry ingredients, Ready mix.
CHEMICAL: Additives, Micronized sulfur, Carbonate, Colorants, Cellulose, Atomized detergents, Powder detergents, Stearates, Phosphates, Pellets, Lost homogenization, Minerals, Pesticides, Plastics and pellets, Polymers, Refractories, Resins.
FINE CHEMICALS and PHARMACEUTICAL: API's, Food additives, Feed additives, Amino acids, Antibiotics, Aromas, Caffeine, Colorants, Preservatives, Crystals, Diet food, Sweeteners, Pharmaceutical excipients, Lots homogenization, Peptides, Saccharine, Veterinary, Vitamins.
WANT TO KNOW MORE? WRITE TO US: