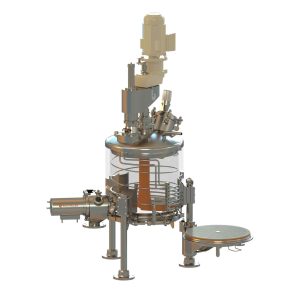 NUTSCHE FILTER (FNB)
Agitated pressure filter for solid-liquid separation
FILTERING SURFACE: from 0.07m² up to 15m²
OPERATION CAPACITY: from 19L up to 15.000L.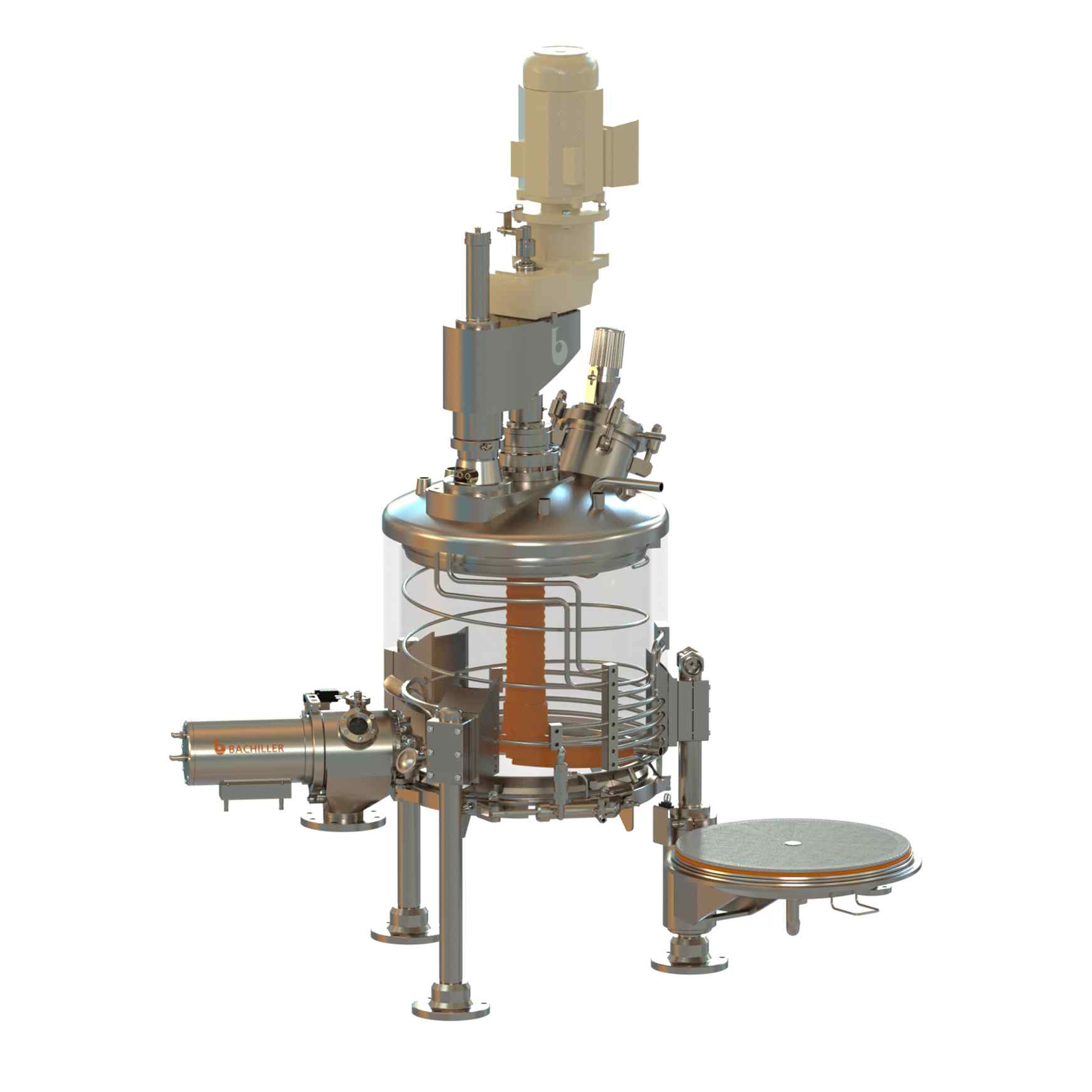 NUTSCHE FILTER (FNB)
Agitated pressure filter for solid-liquid separation
FILTERING SURFACE: from 0.07m² up to 15m²
OPERATION CAPACITY: from 19L up to 15.000L.
Agitated Nutsche Filter is high-quality equipment designed for solid-liquid separation processes, by filtration under pressure, for the pharmaceutical, chemical, fine chemical and food industries.
Within the filtering applications, there are products which, due to their special hazardous or toxic characteristics, or simply to prevent cross-contamination, are more desirably treated in a hermetic way during their manufacturing process. Nutsche Filters by Bachiller have been specially designed to answer these needs, guaranteeing the obtaining of pure substances which are free from polluting elements.
Nutsche Filters by Bachiller are designed in accordance with the GMP and EHEDG standards, for all types of pharmaceutical and fine chemical applications. Our machines are validatable in sterile applications and we have special designs to install inside clean rooms.
Hermetic production. No product is wasted and the risk of contamination is eliminated.

Carrying out several operations using the same equipment: reaction / suspension, filtration, re-dissolution and washing.

Obtaining high purity and homogeneous products independently of the granulometry.

Space and installation costs reduction.

Full automatic and semi-automatic processes.

Low energy consumption.

Time reduction for cleaning, maintenance and filter element replacement.
Filtering surface from 0.07 up to 15 m².

Operation capacity from 19L up to 15.000L.

Batch-wise operation.

Operating pressure of 3 bar(g)

Operation Temperatures up to 200º C.

Design  according to ASME VIII div.1 – AD-2000 – EN-13445.

Easy exchangeable filtering cloth.

Filter in textile, synthetics, metal, multilayer (sintered) or ceramic.

Bottom filter with automatic lifting  and lowering.

Bottom sealing system SUPERCLAMP.

Cake washing system.

Unloading of the cake by the lateral valve.
Internally mirror polished Ra ≤ 0.6 µm (Grit 360).

Internally electro polished (Ra≤ 0.2 µm) as an option.

External polishing according to requirements up to mirror polishing.

CIP/SIP systems, validatable by Riboflavin test.

Agitator with special sterile mechanical seal.

Floating mechanical nitrogen seals.

Drive unit with stainless steel cover.

Sampling valve.

Tight thermal insulation with welded stainless steel cover.

Condensation system , vacuum and heating unit.

Hardware and Software control.

ATEX 20/0 execution with official certificate.

DQ, IQ and OQ protocols.
FINE CHEMICALS and PHARMACEUTICAL: Antibiotics, API's, Biotechnology, Colorants, Crystals, Essences and flavours, Natural extracts, Peptides, Pharmacy synthesis, Vitamins..
CHEMICAL: Additives, Catalysts, Colorants, Metallic powders, Minerals, Pigments, Polymers.
FOOD: Additives, Animal extracts, Colorants, Flavours and aromas, Natural extracts, Vitamin complements.
NUTSCHE (FNB-2S) Filter Dryer 2m², AISI 316L (fabricated in 2017 – unused).

NUTSCHE (FNB-02S) Filter Dryer 0.2m², Hastelloy C22 (new).

NUTSCHE (FNB-007S) Filter Dryer 0.07m², Hastelloy C22 (used).
WANT TO KNOW MORE? WRITE TO US: