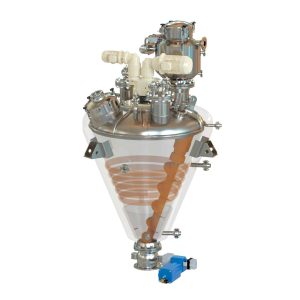 CONICAL (MCV-S)
Vertical conical screw vacuum dryer
CAPACITIES: from 30L up to 10.000L.
SUITABLE FOR THERMOSENSITIVE PRODUCTS
The vertical conical screw vacuum dryer has a sanitary design, with a maximised heating surface, for the drying of all kinds of moist thermo-sensitive, crystalline, amorphous or paste products.
The conical screw vacuum dryer comprises a fully conical vertical vessel, with a vertical screw mixing system.
Full tightness.

Mechanical simplicity, low maintenance required.

Easy to clean and inspect.

Repetitive operation, reproducible and easy to scale up.
Capacities from 30 up to 10.000 liters.

Ultra vacuum batch operation.

Vacuum level less than 1 mbar.

Atmospheric operating pressure.

Operation temperatures up to 200º C.

Design according to ASME VIII div.1 – AD-2000 – EN-13445.

Sanitary design cGMP, FDA validated.

Internally mirror polished Ra ≤ 0.6 µm (Grit 360).

'CE' stamping according to Safety for Machinery Directive 2006/42/CE.
Internally electro polished Ra ≤ 0.2 µm.

Externally polished in matte or mirror.

Powder retention filter in the vacuum outlet.

Choppers for braking lumps or balls of product.

CIP/SIP systems, validated with Riboflavin test.

Sampling valve.

Execution for sterile executions as an option.

Machine easy to segregate into a clean room/service room.

Automatic loading and unloading system as an option.

Condensation, vacuum and heating system.

Control hardware and software.

Pilot plant models.

ATEX execution on demand.

ATEX 20/0 inner side, with official certificate.
Conical dryer (MCV-1000NS) 1,000 L, in AISI-316-L, with a vacuum and solvent recovery skid, heating unit and control and power panel. (Manufactured in 2019)
FINE CHEMICALS and PHARMACEUTICALS: Amino acids, Antibiotics, API's, Aromas, Biotechnology, Caffeine, Colorants, Cosmetics, Crystals, Deontologicalresins, Diet food, Essences and flavors, Food additives, Pharmaceutical excipients, Pharmacy synthesis, Preservatives, Saccharine, Sweeteners, Veterinary, Vitamins.
CHEMICAL: Catalysts, Colorants, Pellets, Pigments, Plastics and pellets, Polymers, Resins, Stearates.
FOOD: Additives, Aromas and flavors, Colorants, Ferments, Food preparations, Lyophilized, Proteins, Ready mix, Vitamin complements.
WANT TO KNOW MORE? WRITE TO US: