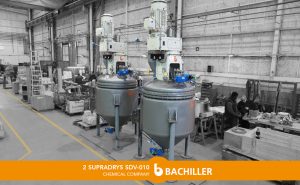 We start the year with great enthusiasm and dedication to our work!
We have just delivered a set of two vertical vacuum dryers Supradry SDV-010 of 1,000 liters in AISI-304-L stainless steel to a large British company with more than 100 years of history dedicated to the chemical sector.
In this project, our client required dryers that were very careful with their product, which in this case were polymers, and that were able to reduce the humidity of this from 0.2% to 0.01%.
To achieve a reliable industrial process, we previously tested the process in our Test Center. Once the necessary adjustments were made and the desired results were obtained, we scaled the equipment to achieve the performance required by our client.